Blood Orange, Plum and Grape Juice
Hadice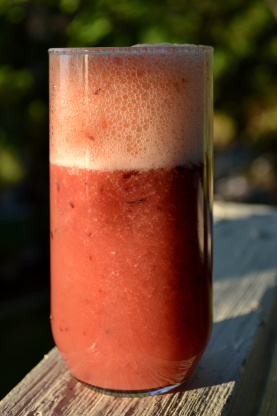 Of course, you can use regular oranges, too. But the color adds a remarkable appeal. You want to keep the pulp.

Top Review by Hadice
After reading this recipe, I thought the flavor of this drink might be a little plain. Boy, was I wrong! I loved everything about this drink, from the color to the pulp to the flavor! I used regular oranges, I kept the skin on my plum and loaded up on red grapes. Seltzer water was perfect for me while my MIL used filtered water in order to avoid the carbonation. If you don't like the pulp that this drink provides, you could easily strain it out before adding seltzer water. Thank you for a delicious and refreshing summer drink!
Peel the orange (leave some zest), chop and remove any seeds.
De-stem the grapes (I used white).
Chop and core the plum. Keep or remove the skin, depending on preference.
Blenderize all items with just a little water.
Add selzer water or regular water if you wish, to bring beverage to desired thickness. Stir gently with a spoon.