Diana 2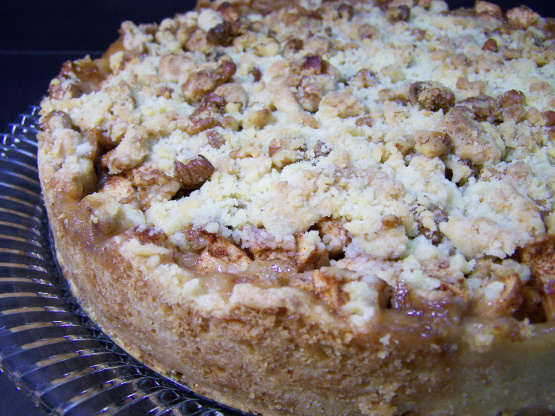 A prize winning dessert from the Blomidon Inn in Nova Scotia's Annapolis Valley, apples are one of the region's chief products. Source: Canadian Living Magazine

I absolutely LOVE this tart! I am not great at making pastry but this little gem came together in no time! Hardest part was peeling the apples. It was a definite comfort food that brought a lot of praise and I can't wait to make it again....soon as I get some more applies. I didn't have sherry so I used a red wine which worked out fine. Great Keeper Recipe...thanks so much!
Crust:.
In bowl, stir together flour, sugar and baking powder.
With pastry blender or 2 knives, cut in butter just until in coarse chunks and mixture is still dry.
Drizzle with egg; toss until slightly moistened. (Mixture should not come together like dough.).
Set aside 1 cup (250 mL) for topping; lightly press remainder evenly onto bottom and halfway up side of 10-inch (3 L) springform pan. Set aside.
Filling:
In bowl, toss together apples, sherry and lemon juice.
Stir together sugar, cinnamon, nutmeg and cloves; sprinkle over apples and toss well. Scrape into pan, levelling top.
Sprinkle with reserved crumb mixture.
Bake in centre of 350°F (180°C) oven until golden, about 1-1/2 hours.
Let stand on rack until warm; run knife around edge to loosen.
Let cool completely before removing side of pan.
Serve with whipped cream and toasted sliced almonds.