Annacia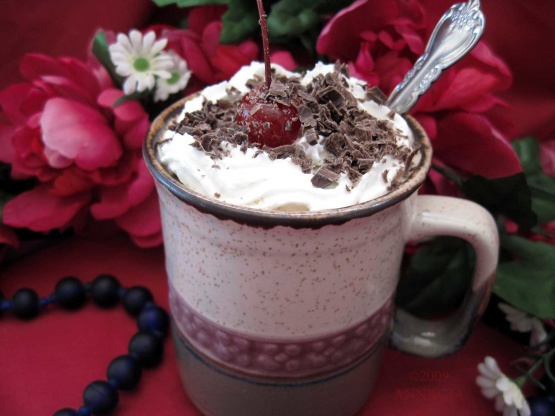 Think... Black Forest Cake... this is my version in Coffee. I hope you will enjoy this special treat, its good both with cherry juice and with the cherry liquer...please feel free to use your favourite cherry liquer in this drink.

O this was so good!!! Made it with a mix of rice milk and almond butter instead of cream and topped with rice whip, using sour cherry juice. Wonderful treat!! Thanks for sharing! Will definitely make it again!
Make fresh, hot, strong coffee and keep warm until ready to mix.
Place a medium size pot on low and add the chocolate syrup and chocolate milk, stir and keep warm, until needed.
With a hand blender mix the heavy cream, cherry liquer and white sugar until it is smooth, thick and creamy.
Add the coffee and cherry liquer to the chocolate milk and stir gently.
Pour coffee into a large mug and garnish with the cherry flavored whipped cream, bittersweet chocolate shaving and top with the cherry cluster.