Bitter Chocolate Lamb Cutlets With Sauteed Spinach
RalMiska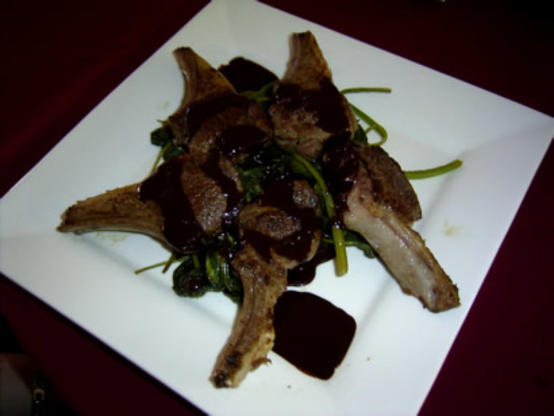 This recipe allows for elegant and simple presentation. The combination of chocolate, red wine and lemon juice offsets the delicate flavour of the lamb quite well.

This whacky combination of ingredients was just what I was looking for, for Valentine's Day 2007. I did make a few alterations - First, I reduced the red wine for two or three hours, to get the richest flavour from it, and I didn't use any garlic in the sauce. Also, I sauteed the spinach in ginger, rather than garlic, and rather than rubbing the lamb with salt and pepper, I fried it in the juices that were left over from the spinach. Overall, it was a very nice, well balanced dish. The sauce was very dry, and, while it provided a nice contrast to the moistness of the lamb, it was still a little too dry for my palette. I think if I make this again, I might add a little cream to the sauce, to make it a bit smoother. Finally, to anyone looking for a good wine to serve with this dish, I highly recommend D'Arenberg Grenache Shiraz. It has a nice deep fruity flavour, with subtle hints of spices like cloves and cinnamon, which compliment the red wine chocolate sauce very nicely.
Marinate lamb cutlets in salt, pepper and extra virgin olive for 45 minutes prior to cooking.
Heat heavy based saucepan with butter until very hot.
Add lamb cutlets and cook 45 second each side. Remove and rest in warm place.
Pour excess oil out of pan and deglaze with lemon juice. Add red wine and finely chopped garlic and rosemary. Reduce for 7 minutes.
Sautee spinach in butter and garlic. Blanch asparagus.
After the wine has reduced add finely chopped chocolate and thicken. Pour through a fine sieve to remove rosemary and garlic from sauce.
Plate spinach, then asparagus on top and crown cutlets around. Drizzle sauce over cutlets.
Serve and enjoy!