Bistro Braised Beef With Shiitake and Pearl Onions
PaulaG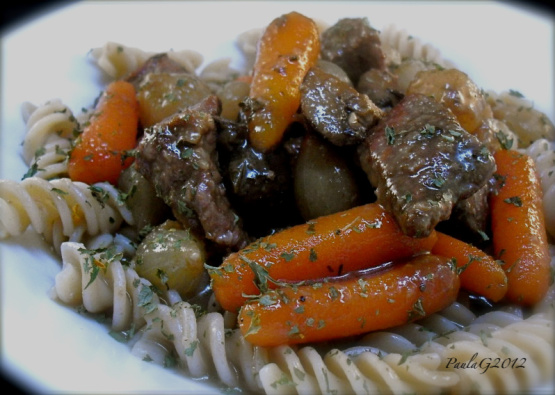 This is a wonderful and oh so satisfying dish. With the long slow cooking the flavors will mellow and become rich.

This was really good. Despite the long list of ingredients, it is actually very easy to make. The dish gives off a wonderful aroma as it is slow cooking and the whole house smelled wonderful. I followed the directions as posted, however I found that the carrots and pearl onions were not soft enough after 30 minutes covered, in Step 14. I even increased the heat a little and let it simmer another 25 mins or so and they still were not soft enough. I think next time I might put them in in Step 12 and let them simmer for an hour and a half with the beef, or maybe put them in a half hour into the beef simmering. Anyway, this was a tasty dish and we enjoyed our dinner. Thanks, Annacia!
Clean shiitake and remove stems, if using other mushrooms simply clean.
Leave whole or if mushrooms are large, thickly slice.
In a large wide saucepan or Dutch oven, melt butter and 1 tbsp (15 mL) olive oil over medium-high.
Add mushrooms and cook until tender, about 3 minutes.
Remove from heat and turn into a bowl.
In a large bowl, stir flour with salt.
Add beef and lightly coat in flour.
In the pan that mushrooms were cooked in, heat remaining oil over medium-high heat. Cook half the meat until browned all over, then remove to a bowl.
Repeat with remaining meat adding a little more oil.
Stir in coffee, water, garlic, vinegar, brown sugar,Worcestershire, herbs and meat in bowl to the saucepan.
Bring to a boil, then cover and reduce heat to medium-low, mixture should be gently simmering.
Stir occasionally for 1 1/2 hours, meat should nearly be tender.
Stir in carrots and onions.
Continue to cook, simmering gently and stirring occasionally until meat is very tender, about 30 minutes.
If you would like sauce a little thicker, uncover and simmer 15 to 20 minutes.
Stir in mushrooms.
Add pepper to taste.
Serve with mashed potatoes or egg noodles, sprinkled with parsley or fresh thyme.
PEELING PEARL ONIONS:.
Drop unpeeled onions in boiling water for a minute or so.
Plunge into cold water.
Cut base of onions and squeeze.
Onions will pop out of skin.