Biggest Loser's Frozen Hot Chocolate
Nif_H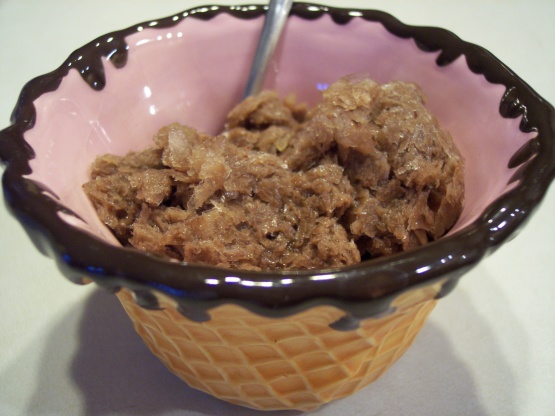 I got this recipe from the Biggest Loser Cookbook, and I love that it's so easy and that it's a low calorie and fat free treat! *Note: Cooking time is the freezing time* The cookbook says 25 calories, 0 g fat, but I think that was calculated without the whipped topping.

Well this was a nice little treat and very simple to put together. I'm not sure if the texture is something I really like but the kids thought it was fun they were eating frozen hot cocoa after school today. It does have a great flavor. Can't be beat with the few calories that might be in this (even though none are showing). Made for your win in Football Pool Week #6
2⁄3 cup hot water

1

(1/3 ounce) packet fat-free sugar-free hot cocoa mix

2

tablespoons aerosol fat-free whipped topping (optional)
In a small freezer-safe plastic container with a lid, combine the water and chocolate mix.
Stir or whisk to dissolve the powder completely.
Let stand to cool.
Cover the container and place in the freezer for 4 to 5 hours, or until solid.
To serve:.
Let the container stand at room temperature for 10 to 15 minutes or until the hot chocolate is just starting to melt slightly around the edges.
Or, place the container in the microwave and cook on high power for about 30 seconds.
It should still be somewhat hard and need to be scraped with a spoon.
Dollop with whipped topping, if desired.
Serve immediately.