Big Kahuna Personal Pizza
flower7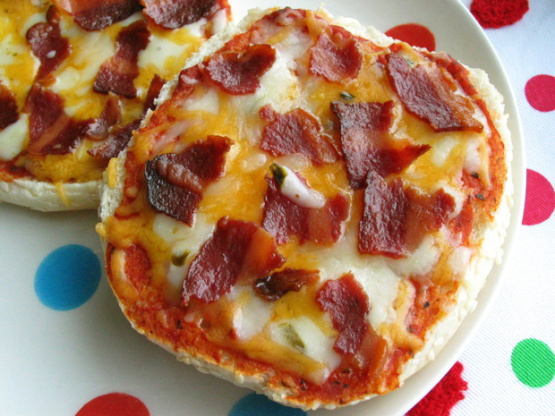 This is a little pizza to whip up quickly with common household ingredients. This is also a food to eat when you're hungry but you just don't know what to have. Enjoy!

This was perfect for a quick, easy dinner when I was too busy to make something more complicated. I grabbed a packet of pizza sauce from the freezer (I have it frozen, divided into personal-pizza-size amounts) and some pre-cooked turkey bacon as I didn't have any pepperoni. For a bun, I only had a hamburger-size, so that's what I used. Add some cheese from the fridge, heat, and supper is done! Thanks so much for sharing!
1

hot dogs or 1 sub sandwich bun
roughly 2 spoonfuls pizza sauce (give or take according to how much you want)
1⁄4 cup cheddar cheese (or a handful)
1⁄4 cup mozzarella cheese (or a handful)

3

pepperoni
Spread pizza sauce on bun.
Sprinkle handful of cheddar cheese on bun.
Sprinkle handful of mozzarella cheese on bun.
Put 3 pepperonis on, 2 on one side of bun on the ends, 1 in the middle on the opposite side of the bun.
Cook in toaster oven at 425° until cooked and cheese is sizzling.
Serve on a plate. You can break the two sides off separately, fold them over sub sandwich style, or eat it whole.
Enjoy!