ImPat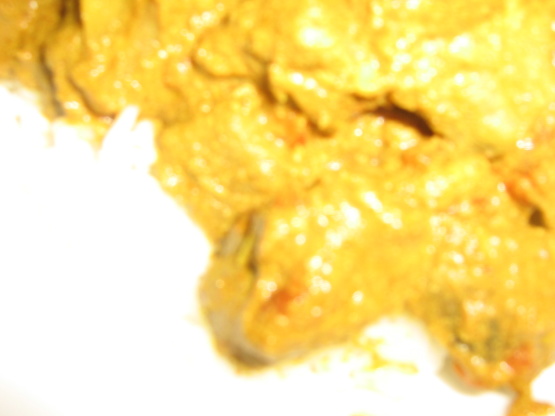 This recipe is a variation of the traditional kormas of India since beef is not served within the country due to the Hindu sacred regard for cattle. This recipe is traditional with lamb or chicken.
Soak meat cubes in the yogurt for at least 2 hours. Add salt and simmer meat and yogurt in an uncovered saucepan over very low heat until meat is tender (about 1 hour). Stir occasionally. Reserve.
Heat the olive oil in another pan. Fry onions and green pepper until onion is translucent. Add garlic and tomatoes. Fry one minute longer and then add the remaining ingredients. Continue frying for 3 more minutes the add to the meat mixture.
Bring meat mixture to a simmer, covered, and cook for 15 minutes.
Serve over rice along with chilled dishes of yogurt to help combat the spiciness of this recipe.