ImPat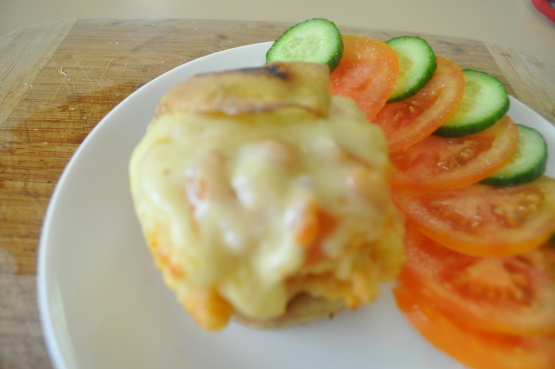 These potatoes are spicy, full of flavour and also quite good for you as they are packed with proteins. If you feel like indulging a bit, add some sour cream on top or some shredded cheese.

I made this for lunch using homemade beans, served with a salad for great meal. Thanks for sharing the recipe. I'll be making this again when I have leftover vegetarian chili. Thanks for posting the recipe.
Wash potatoes (do not peel). Prick several times with a fork.
Bake in the pre heated oven at 180°C/375°F for 45-60 minutes until potatoes are tender.
Let cool a bit. Cut off a slice of the long side of the potatoes. Scrape out flesh, leaving a potato boat, which you can then fill.
Combine beans, 1 tbs of the bean liquid, oil and spices in a bowl. Add potato flesh (including the slices you cut off). Mash.
Fill the chunky bean mash into the potato skins. Top with cheese if desired.
Return to the oven and bake for another 15 minutes.
Serve with a dollop of sour cream on top if you like.