BBQ Short Ribs Korean Style
2Bleu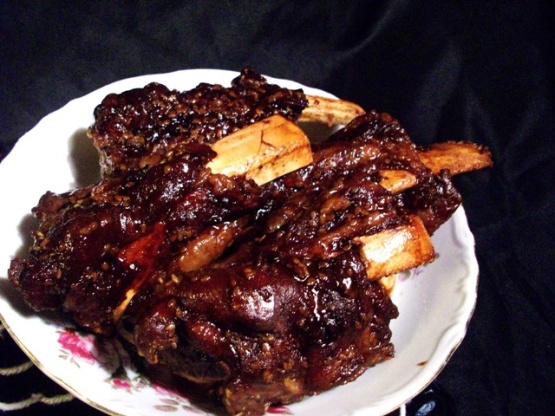 From Boy Meets Grill with Bobby Flay. I love all the ingredients in the sauce!

We loved this recipe! Only wished I had made more! There is just the 2 of us, so I halved the recipe. Marinated the ribs all day in the fridge. Only used the sesame seeds as a garnish along with the green onion. We are not huge fans of sesame oil so I only used a few dashes. Served the ribs with jasmine rice and sesame broccoli. My husband is still talking about how good the ribs were days later. Thank you, this one's a keeper!
2

tablespoons toasted sesame seeds, plus more for sprinkling

4

large garlic cloves, pressed
3⁄4-1 cup soy sauce

2

tablespoons sherry wine

3

tablespoons honey

2

tablespoons sesame oil

2

tablespoons water

2

teaspoons fresh ginger, finely grated
1⁄2 cup chopped scallion, plus more green tips for sprinkling (green and white parts, mixed)

2

teaspoons red chili pepper flakes

6

lbs beef short ribs, cut into thin pieces, about 2 1/2 inches long
Grind the sesame seeds in a coffee grinder until fine. Place the ground sesame seeds in a medium bowl and add the garlic, soy, sherry, honey, sesame oil, water, ginger, scallions, and red chili flakes, stir until thoroughly combined.
Put the ribs in a large baking dish, pour the marinade over, and turn to coat. Cover and let marinate in the refrigerator for 2 to 3 hours.
Preheat the grill to medium-high. Remove the ribs from the marinade and grill on both sides until golden brown and crispy, about 15 minutes. Reduce the heat of the grill, close the cover, and grill until tender, about 15 minutes longer.
Remove to a platter and sprinkle with sesame seeds and green onions. Enjoy! Good served with rice.