Basic Fish Cure (Bbq Rub)
Peter J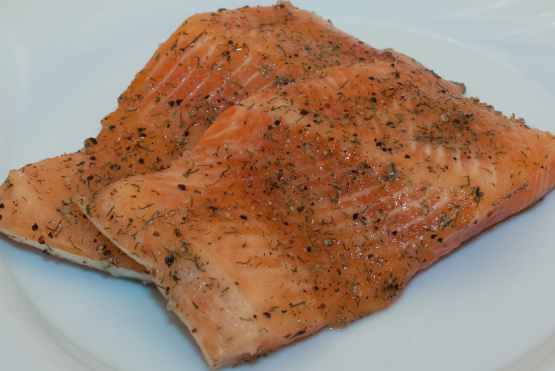 This is a rub to use on fish prior to grilling or smoking. Recipe from Steven Raichlen's How to Grill cookbook. He says feel free to use different kinds of sugars such as white, turbinado or maple sugar instead of brown. He also says you can add any additional herb or spice you may fancy. Use 3/4 cup of rub per pound of fish.

We were a house divided on this one. For me, this was easily a 5 star recipe, both for flavor and ease of preparation. I love the combination of spices here, and you can never go wrong with the sweet/salty combination in my book. We don't tend to like our meats heavily spiced, so I went with a light sprinkling on some salmon fillets. The flavors complimented the salmon beautifully! DH thought the spices were "too intense", whatever that means, hence the 4. He did say that the flavor combination was good, though. I had sprinkled fairly sparingly, but I think I will hold on to the leftovers and try again with an even lighter hand. Thanks so much for posting, JB! Made for ZWT 8: The Wild Bunch.
Combine all ingredients in a small bowl with your fingers.
If using as a seasoning, just sprinkle on the fish before grilling.
If using as a true rub (which will season and start to cure the fish), sprinkle on the fish and rub with your fingers. Let sit for 2 hours up to a day in advance prior to grilling.
NOTE: This rub will keep for at least 6 months if kept in an airtight jar away from heat and light.