Basic Dessert Crepes Batter
PaulaG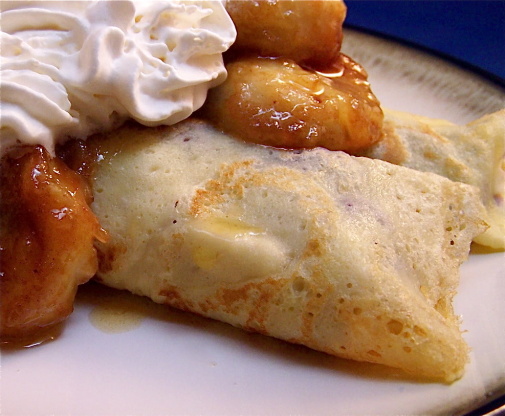 This recipe can be used for all your dessert crepes. You can cook them fresh and use them or better yet make a batch, wrap them in plastic, then foil and freeze them for future use. Have wax paper between the crepes. Dessert fillings will be posted separately. I say 20 crepes this depends on the size and how thin you pour them.Mine are almost paper thin and about the size of a large side plate

Fantastic! This is my go-to dessert when we have guests over! I make the crepes a day or two in advance and just heat them up in the oven prior to serving! We fill them with mixed berries and chocolate sauce! Yum! Thanks Bergy for another great recipe!
Put all the ingredients in your blender and blend for 1 minute.
Scrap down the sides and blend for an additional minute or until smooth.
Refrigerate for 1 hour.
To Cook:.
A- Use an upside down crepe pan and follow instructions or.
B- Use a non stick skillet.
You do not have to use additional oil or fat.
Pour a little batter in the pan, just pour in enough batter so it will thinly coat your pan, tilt the pan to spread the batter evenly on the bottom of the pan Cook over medium heat for a couple of minutes until the bottom is light brown, flip and cook for a few seconds more Remove from heat and stack on a plate with wax paper between them.