Barefoot Contessa's Orange Banana Smoothie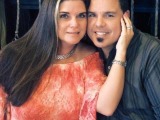 I saw Ina make this on her Barefoot Contessa cooking show and the episode was entitled "Good Home Cooking." This smoothie is quick and delicious! You can also use frozen strawberries.
Directions
Combine the orange juice, lime juice, strawberries, and banana in a blender and process until smooth.
Refrigerate until cold.
"Cook" time does not include refrigeration time for chilling.