Barefoot Contessa's Chicken Salad Veronique
Prep 10 mins
Cook 40 mins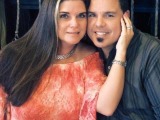 I saw Ina make this on her Food Network television show. The episode was entitled "Flavors and Flowers".
Directions
Preheat the oven to 350 degrees F.
Place the chicken breasts, skin side up, on a sheet pan and rub them with olive oil.
Sprinkle generously with salt and pepper.
Roast for 35 to 40 minutes, until the chicken is cooked through.
Set aside until cool.
When the chicken is cool, remove the meat from the bones and discard the skin and bones.
Cut the chicken into a 3/4-inch dice.
Place the chicken in a bowl; add the mayonnaise, tarragon leaves, celery, grapes, 1 1/2 to 2 teaspoons salt, and 1 teaspoon pepper and toss well.
Most Helpful
I sometimes use red seedless grapes instead of green and add a few toasted and chopped pecans or walnuts. This is my all time favorite chicken salad!

My family loves this salad! My 10 year old picky boy asks for it all the time.
This was really tasty. The tarragon gave it a unique taste that I was unsure about at first. After it chilled for a few hours it all came together and was a big hit. Thanks for posting!