Karen..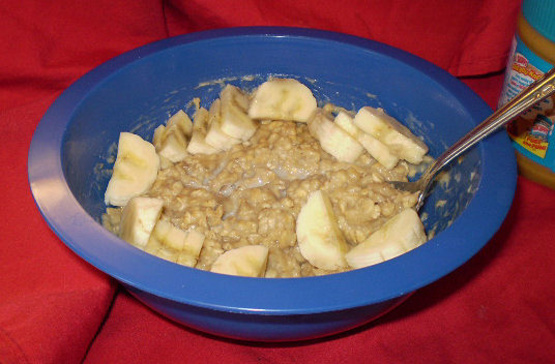 One of my favorite breakfasts. I invented this version, but my Mom deserves some credit for it too. It can be mixed the night before, and refrigerated in a covered bowl/microwave safe container. In the morning all you have to do is microwave it and mix in the peanut butter.

I thought this was a great quick breakfast that really fills you up. I halved the recipe and only needed 1 minute total cooking time. I also used vanilla soy milk instead of regular skim milk. This oatmeal was very thick, so I think next time I'll increase the milk a bit or try it with skim. Thanks!
Break banana into chunks and put into a small blender jar.
Add the skim milk.
Liquify in blender.
Put the dry oatmeal in a microwave safe bowl. (If you want to mix it ahead of time, use a small microwave safe dish which has a lid).
Pour the banana mixture on top of the oatmeal.
Stir well, to incorporate all the oatmeal.
Microwave (uncovered) on high setting for 90 seconds.
Stir.
Microwave again for about 90 seconds.
If it starts to rise over the top of the bowl, stop the cooking, because it is most likely already done!
Stir in peanut butter.