GaylaJ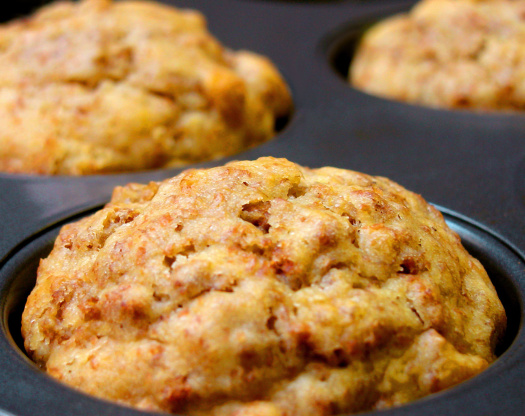 A great way to start your day!

I must say, my hopes weren't high but I decided to try these. I have an old, favorite banana muffin recipe that I've been using for years and my husband is absolutely in love with it. He's gone on a recent dieting and exercise kick (with great results!) which makes my old recipe was a no-go. PCrocker's recipe is simple, straightforward and, most importantly, absolutely fantastic! I even 'ruined' the recipe by substituting the oil with unsweetened applesauce and replaced 1 cup of the all-purpose flour with whole-meal flour. (To make the muffins about 110 calories each-like the 100cal snack packs, but far tastier!) Even that couldn't mess these up. This is a great bran muffin -- not too sweet, not too dense and the bran doesn't overpower the flavor of the banana. Thanks for posting, PCrocker. My husband is over the moon and has already put aside some bananas to over-ripen so we can use them for the next batch.
Preheat oven to 375 degrees.
Combine bran cereal, bananas, and milk in a large bowl, stirring well; let stand 5 minutes.
Add sugar, oil, egg, and vanilla; mix well.
Combine flour, baking powder, and salt; stir into bran mixture just until combined.
Spoon batter into a paper-lined muffin pan.
Bake at 375 degrees for 20 to 25 minutes.