Balsamic Strawberries - Just a Little Bit Different!
Prep 10 mins
Cook 30 mins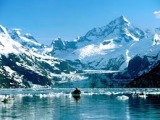 The use of a balsamic vinegar flavored with fruit is the perfect complement to sweet, fresh strawberries. You could also use a combination of fresh berries, if you prefer. Recipe from Eva Longoria. *Cooking time is really refrigeration time. Notes: Personally, I wouldn't let the strawberries marinate any longer than the 20 minutes or they will be too strongly flavored. The whipped cream really balances the flavors!
16 ounces strawberries, ripe, hulled and quartered (or you could do a combination of strawberries, raspberries and blackberries! About 4 cups)
1⁄2 cup flavored balsamic vinegar (use either dark cherry or raspberry)
whipped cream (to garnish)
Directions
Place the prepped berries into a medium-sized bowl and pour the flavored vinegar over them. Place in the fridge for about 30 minutes.
Use a slotted spoon to divide the berries amongst 4 champagne glasses. Let as much or as little vinegar into the glass as desired. Top with a spoonful of whipped cream. Serve cold.
Most Helpful
I made this as written other than reducing the serving size. The balsamic vinegar really improved the flavor of some end of the season berries that were pretty blah before it was added. I will do this again. Thanks for sharing made for the 2014 Culinary Quest for the Crusin' Culinary Queens.
Thank you for sharing this recipe LIG. I am glad that I tried it. I liked the vinegar with the strawberries but didn't enjoy the vinegar with the whipped cream. Made for Culinary Quest - for the Suitcase Gourmets.
I mixed cut strawberries and blueberries for a color contrast. The colors were beautiful! I used raspberry flavored balsamic vinegar, and absolutely loved the strawberries soaked in the vinegar. The blueberries didn't seem to pick up as much of the flavor, but were delicious anyway with the whipped cream. Again, just loved the raspberry balsamic soaked into the strawberries.....yummy! Made for Photo Tag.