Baked Sweet Potatoes With Brown Sugar-Pecan Butter
Tinkerbell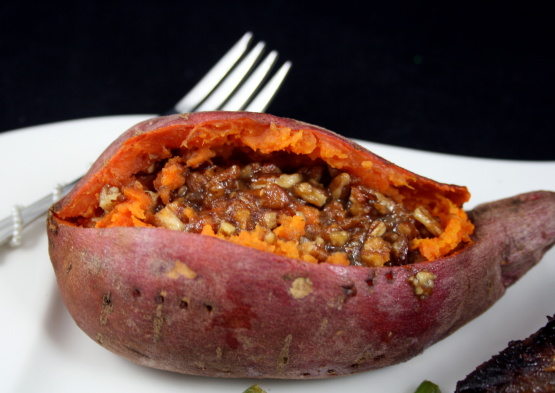 After moving to Texas from the north, I was introduced to baked sweet potatoes as a side dish, a nice change from the usual baking potato. These are "baked" in the microwave, a real time-saver!

We were having family come to town and I knew white potatoes weren't going to be diet-friendly, so I chose this recipe. It's the first time I've made sweet potatoes at home because my family doesn't like sweet potatoes. Well, this is the recipe that changed all that! DH couldn't stop raving about how good it was, and said he wished I'd made more! I'll definitely be making these again and again. Thanks for the quick and easy microwave method, as that freed up the oven, and will be really handy come Thanksgiving. Thanks, MommyMakes!
Try this method for toasting the pecans: Sprinkle chopped pecans on a paper plate and microwave on high for 1 or 2 minutes, they should smell toasted when they are done.
Scrub, but do not peel, the potatoes.
Pierce them in several places with a fork.
Microwave on HIGH for 12 minutes until done.
Meanwhile, combine the butter, sugar, and pecans.
Once potatoes are done, slice length wise, about 2/3 of the way down (do not cut through) and push end toward each other to "fluff" the potato and create a well for the butter.
Place a scoop of butter mixture into the center and wrap in foil until serving.