Stacky5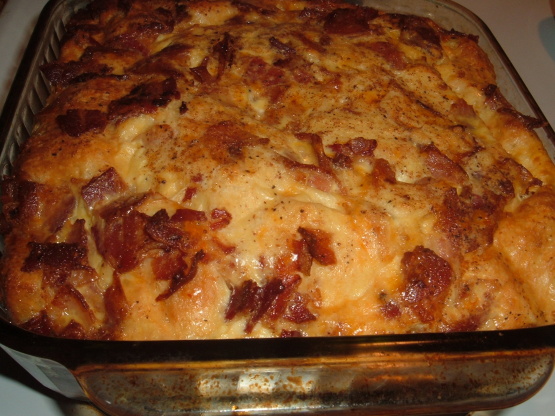 Another one from the Penzey's Spices catalog. A great way to use that stale bread. I like to add a diced, sauteed onion to this.

Top Review by karen
This was great. I needed a recipe like this for a Jewish organization brunch meeting, so I couldn't use the bacon. Instead, I subbed 1 lb of frozen hash brown potatoes to give it a little substance. I made two pans, one plain and one with some added mushrooms and onions. Both were great but I liked the one with the onion/mushroom mixture better. Next time I think I want to try it without the potatoes, or with only 1/2 lb per pan so it is more bread than potatoes...but I don't think you can go wrong with this basic recipe.
Grease a 9x13 glass baking dish and set aside.
Fry the bacon, drain on paper toweling, cut into 1 inch pieces.
Cube the bread into 3/4 inch pieces and set aside.
In a large bowl, beat the eggs.
Add the milk, mustard powder, salt, and blend well.
Stir in the bacon, cheese, and bread cubes.
Stir well to combine.
Pour the mixture into the baking dish, cover with plastic wrap, and refrigerate overnight.
Preheat oven to 350°F and bake for one hour.