Azteca (Tortilla Chip) Soup
nisea916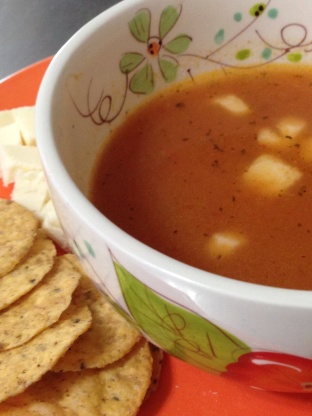 I haven't made this recipe yet, but my family loves tortilla soup when we are in Mexico. I found this recipe on the back of a tortilla chip bag.

I chose this recipe because it seemed liked the closest to replicating the Sopa Azteca that is served here in MX. I made 1.5 liters to feed 5 people. To please the one that hates garlic, the one that hates extremely spicy food, and the one that hates both, I had to use only one large clove of garlic and 3 chiles. I found my tomatoes to be a bit on the acidic side so I added 1 Tbsp. sugar to cut the acid. I also added in a bit of dried parsley because I didn't have fresh epazote...only dried, and I'd had it for a while. Even with using the one garlic and three chiles the flavors were still there. The 'bite' from the chiles came after tasting all the flavors of the soup. 3 teenagers and myself all give this recipe 5 stars. Served with Tostitos brand tortilla chips and mozzarella cheese. Next time I'll make sure I have all 'mexican' ingredients on hand. Fried corn tortilla strips, mexican cheeses, and for me, avocado! Thank you so much for your recipe. It took me a while to discover this simple yet perfect recipe, and I'm more than positive I'll prepare it often.
Place tomatoes in boiling water for about 2 minutes.
Remove tomatoes and in a food processor, blend them with the onion and garlic.
Heat 2 tablespoons of the vegetable oil in a 2 Litre sauce pan. Add the blended tomato mixture. Cook until it changes colour and has a pleasant cooked taste.
Add the broth and heat until it just starts to boil. Simmer and add the Epazote leaves, salt and pepper.
In a separate pan or griddle roast the dried pasilla chilies in the remaining vegetable oil until they change colour but do not blacken. If burnt, the chillies will taste bitter and unpleasant.
To serve, use deep bowls. Pour or ladle in the very hot broth mixture. Place a handful of chips in the soup and garnish with grated cheese, avocado, and sour cream. Serve immediately so the chips do not get soggy.
Serve the grilled chillies on the side for individuals to use to their taste.