Avocado Strawberry Salad With Feta and Walnuts in a Tarragon Vin
Diana 2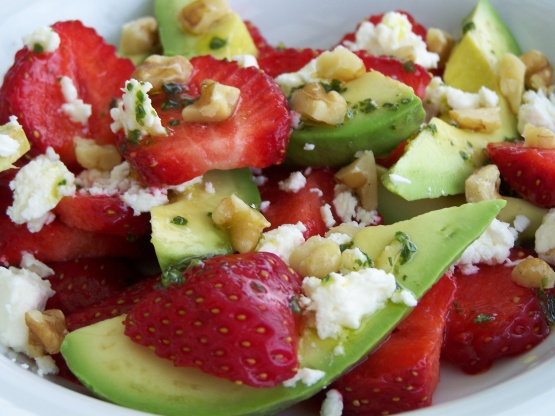 First place winner of the 2009 Craze-E contest. I created this simple yet sophisticated salad in the spirit of Mark Bittman's minimalist column in the NY Times. To dress up the presentation (though it's quite pretty as is), serve over a bed of greens. If you want to make it low calorie, replace the apple cider vinegar, sugar, and olive oil with one ingredient: a good balsamic vinegar.
A really nice salad. It has all the elements I like in a salad - contrasting flavors/textures and a little crunch. Great job!
Whisk all vinaigrette ingredients together in a small bowl.
Divide strawberries and avocado evenly into two individual salad bowls.
Drizzle approximately one tablespoon of vinaigrette over each.
Top each salad with a tablespoon of walnuts and a tablespoon of feta.