ImPat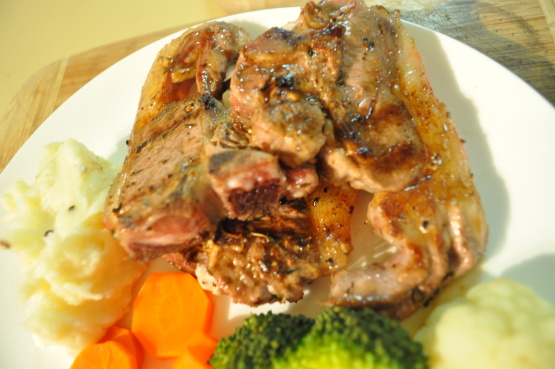 We make these lamb chops on Australia Day, as I can take them from the freezer, pop them in the marinade container, with the marinade, and keep them in the bottom of the eski all day while we are at the beach. The lamb is tender and flavoursome when cooked!

Top Review by ImPat
We really liked the marinade but next time I would use fresh oregano and also add some fresh rosemary (we are fortunate that both grow abuntantly all year round and I did double the garlic as we just love the fresh garlic we have harvested). I cooked on an indoor grill (using 12 loin chops for 4 which were served up with 2 recieving 4 and the other 2 persons got 2 each which suited us). I cooked on an indoor electric ridged grill 5 minutes per side which gave a well done to the smaller chops and a slight pink to the larger ones so everyone got what they liked. Thank you Sara 76, made for Bargain Basement.
Mix together all ingredients, apart from the lamb.
Pour marinade over lamb, cover, and leave to marinade at least an hour we leave ours all day).
Grill or BBQ on high, fr 3 minutes each side, or until cooked to your liking.4.