Attempting to Duplicate Progresso Lentil Soup
cvwalter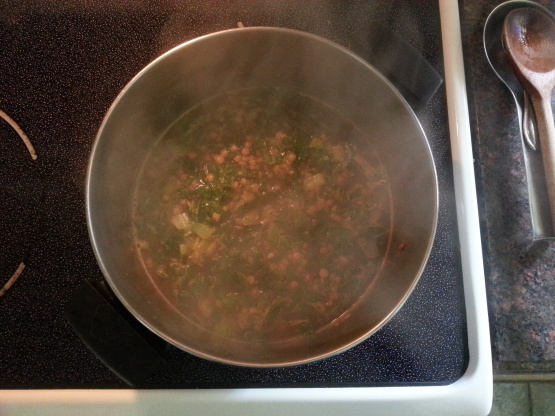 Made this last night and the ginger is so overpowering! This might have been better without it all together. I also felt that the lentils needed to cook longer, as mine were pretty hard. In addition, I needed more stock, so I added a substantial amount more and the ginger was still too much. If I make this again, it would definitely be without any ginger, or if with any, the tiniest amount. 1 1/2 tablespoons is waaaayyyy too much. It is all you can taste. Not a good duplication of the progresso recipe but maybe it would be with more salt, more stock, and no ginger.
Spray a stock pot with non-stick cooking spray. Saute' celery with salt until tender. Reduce heat to low and add garlic, ginger, and pepper. Cook until aromas are released, stirring constantly, about 2 minutes. Add lentils and cook an additional 3 minutes, constantly stirring so the beans are evenly cooked.
Add stock, tomato paste and spinach, bring to a boil, reduce to a simmer, and cook, uncovered, about 1 hour 15 minutes. Stir soup regularly to ensure even cooking so the beans do not burn. When done, beans should be soft inside, with no chalkiness. Puree with stick blender to desired consistancey.