Asparagus with Olive Oil & Herbs
PetsRus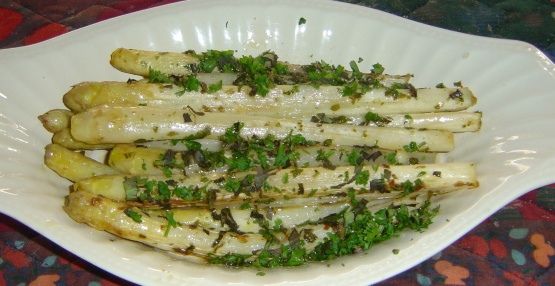 I love the spring when fresh asparagus is available! This recipe is from "Come For Dinner" by Leslie Revsin.
Top Review by PaulaG
I skipped the first step and mixed everything in the skillet. It cooded crisp tender in 15 minutes. I brought the pan juices to a boil and boiled down a few minutes before adding the lemon juice. Everyone thought it was a wonderful recipe and as usual the directions were wonderful. Thanks for sharing. I am sure I will do make this again.
Mix parsley, garlic& oil in a 9 x 13 inch baking dish.
Add asparagus& mix to ensure that all stalks are covered with oil mixture.
Place asparagus into a skillet large enough for the asparagus to lie flat in no more than 2 layers.
Season with salt& pepper.
Cover& cook over medium-high heat until sizzling.
Reduce heat to low& simmer until asparagus is tender but not mushy, 10- 20 minutes.
Transfer to serving platter& sprinkle mint over top.
Stir lemon juice into the pan juices, season to taste& pour over asparagus.
Serve hot or at room temperature.