Asparagus With Fresh Tomato Yogurt Sauce
Boomette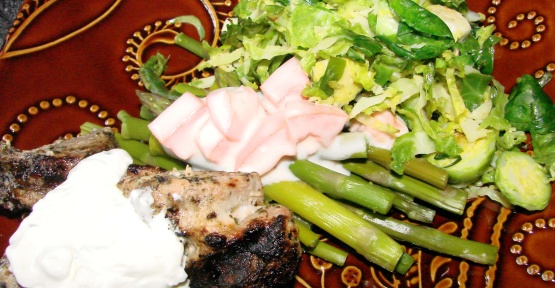 Looks as great as it tastes! A wonderful combination of flavors. Simple, quick and easy. Photo was shows recipe made with "grilled" asparagus.
This recipe was so good, specially the sauce. I made the lemon yogourt chicken as well and after baking the chicken the yogourt sauce had evaporated a bit so I poured the tomato sauce on the chicken as well as the asparagus. It was delicious. My husband does not like yogourt and he loved it.
Cut asparagus in 2 or 3 pieces.
Cook in boiling salted water until just tender but still bright green* (Tip- Watch the cut surface. When the white center changes from opaque to translucent, check for doneness) Drain and rinse with cold water to stop the cooking process.
Pat dry with paper towels.
While asparagus is cooking, combine the yogurt, mayonnaise, lemon juice, tomatoes, salt and fresh ground pepper.
Place the asparagus on a flat plate and spoon the sauce across the center.
Serve at room temperature.