Rita1652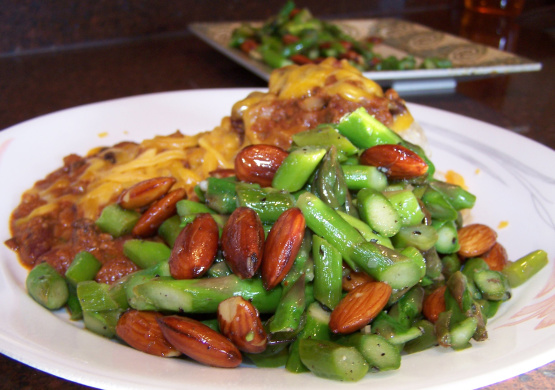 Grains of Paradise an aromatic seeds of a tropical African plant has a zesty flavor reminiscent of pepper, with hints of flowers, coriander and cardamom. The whole almond gives this a nice crunch but sliced will be fine it you don't want the crunch.

SO GLAD at our dinner party last night we did make!
As really is a delish dish for our friend's health sake!
Picked recipe initially as never tried Grains of Paradise, TRUE!
Now I can say I accomplished another challenge too!
Thank you as was SOOOOOOOOOOOOOOOOOOOOOO easy to do!
We kept the almonds whole as really does add to the dish too!
THANKS!
In a hot pan heat enough oil to coat bottom of pan add almond and stir for one minute. Remove almonds and set aside.
Add remaining ingredients to pan and stir fry till asparagus is just tender. Add back the almonds and stir to combine. Enjoy.