PaulaG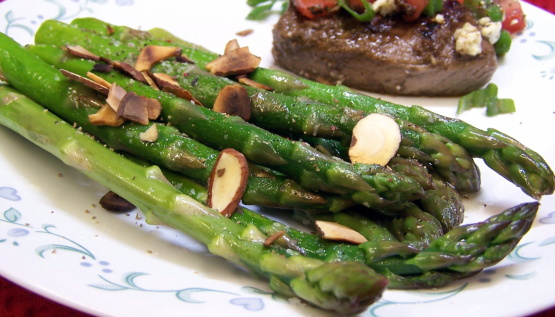 A wonderful way to cook fresh asparagus.
Top Review by PaulaG
Quick and delicious. Just my style. I used a large cast iron skillet and did need to use a touch of water when cooking the asparagus possibly due to the size of the stalk. The asparagus was crisp tender and full of flavor. I sprinkled lightly with coarse salt and freshly ground pepper before serving.
In a 10-inch skillet over medium heat, toast almonds until golden, shaking skillet occasionally.
Remove almonds to a small plate.
Meanwhile, hold the base of one asparagus stalk firmly and bend the stalk.
The end will break where it becomes tough to eat.
Use that stalk as a guide to cut the remaining stalks.
If the asparagus is very thick, you may want to use a vegetable peeler to trim the scales.
In same skillet, melt the butter or margarine over medium heat and add the asparagus.
Cook, uncovered until asparagus in crisp-tender, turning frequently.
Place asparagus on a serving platter and sprinkle with salt and almonds.