Asian Style Chicken Ramen Dinner Cole Slaw
Julesong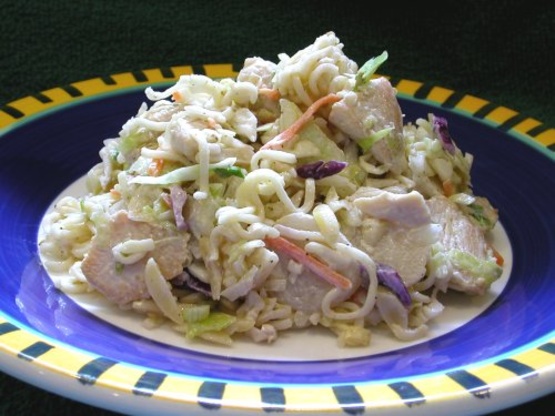 There are many different variations of this salad out there, of course. My version differs in that the dressing is creamy, and not sweet. The recipe makes 4 main-dish portions, or 8-10 side dish portions. It's great as a dinner entrée, and fast and easy to make! Very popular as a take-along potluck or picnic item, too.
2

(4 ounce) chicken breasts, cut into bite-size pieces

1

tablespoon olive oil

1

teaspoon toasted sesame oil

Dressing

1⁄4 cup mayonnaise (Best Foods, Hellmann's, or Vegenaise)

2

tablespoons plain low-fat yogurt (see note #2 below)

1

garlic clove, minced, to taste

2

tablespoons cider vinegar

1

tablespoon soy sauce

2

teaspoons lemon juice, to taste
1⁄8 teaspoon fresh ground black pepper, to taste
1⁄4 cup slivered almonds

3

green onions, chopped (scallions)

1

(4 ounce) can sliced water chestnuts, drained

1

tablespoon toasted sesame seeds

Salad mix

1

(1 lb) bag coleslaw mix or 1 small cabbage, shredded

2

(3 ounce) packages chicken-flavored ramen noodles
Sauté the chicken pieces in olive and sesame oils until browned. Drain and set aside.
In a very large bowl, stir together the dressing ingredients well.
Add the browned chicken and coleslaw mix or shredded cabbage to the dressing and toss well to coat. Set aside.
Into a bowl, break up the ramen noodles into smaller pieces. In a saucepan, heat the amount of water according to package directions to a brisk boil and add the seasoning packets. Add the bowl of noodles all at once to the boiling seasoned water and cook, stirring occasionally, for 90 seconds. (You want the noodles slightly cooked, but not as limp as ramen will get if you cook it fully.) When noodles have cooked for 90 seconds, remove from heat and immediately drain.
Add the semi-cooked drained ramen noodles to the coleslaw and toss again to combine well.
Place salad in a large container and chill in refrigerator for at least 2 hours (it helps to cool and chill them if you stir the slaw a couple of times during chilling).
Makes 4 entrée-size servings. You can always stretch this salad by adding additional meat or packages of ramen! We've even added more semi-cooked ramen the next day to the leftovers. :).
Note: for folks who like their salad spicy, the addition of crushed red pepper is nice, or a bit of Tabasco in the dressing. A bit of minced fresh sweet basil is also nice in this recipe. My husband sometimes adds sliced black olives to his serving. I also use about a 1/2 cup of slivered almonds, because I love their taste and texture in the salad.
Note #2: if you don't have yogurt, you can use sour cream instead, but yogurt is preferred.
Note #3: if taking to a picnic or potluck and you're concerned about the mayo in it, you might consider using Vegenaise instead of regular mayo, which has no eggs in it. Tastes just like old fashioned mayo, but lower fat and no eggs. See http://www.followyourheart.com for more info.