Asian Shrimp Cocktail Sauce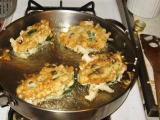 An incredible alternative to the red stuff! I have served this a half dozen times as of the posting this recipe -- which is precisely WHY I'm posting the recipe, because people ALWAYS bug me to death for it after they taste this delicious dipping sauce. And if you like to skewer and grill your shrimp on the barbeque, it makes a great "mop sauce" too. Friends, you're bound to enjoy this one. My hats off to Hellman's for the recipe!
Directions
Blend all ingredients and refrigerate for at least one hour prior to serving on the side with either cocktail or grilled shrimp.
NOTE: this blend can also be used as a "mop sauce" for grilled shrimp on skewers.
Most Helpful
I just read this in a post, had everything to make it and cut it down to 3 servings as an appetizer for toonight. This went together in about two minutes, the time to press the garlic. Very tasty, very nice. We had it with imitation crab stix which is what was suggested in the post, but I'm thinking shrimp, or even chicken breasts on the grill...lots of possibilities to use this one. Only one thing to be careful of--the power of your Dijon mustard. It overpowered the others tastes for me so I had to add more of everything to tone it down. I would start with less Dijon next time, then build up to the taste I wanted. Super good recipe.

Today is the fourth time I am making this sauce and it is a keeper! I also had my friends calling me today for the recipe. It is so easy to make and everyone loves it. I serve it with Lobster and Shrimp and it is always the hit of the party.
This is a great recipe, I made it for an Easter family gathering and it was a huge hit, a very nice alternative to the usual horseradish sauce. The Dijon mustard gives it a nice bite. I made so much of it I used the leftovers as a marinade for chicken breasts I cooked on the grill the next day and it was excellent. Many thanks.