Asian Lime and Herbed Tofu in Lettuce Cups
Elmotoo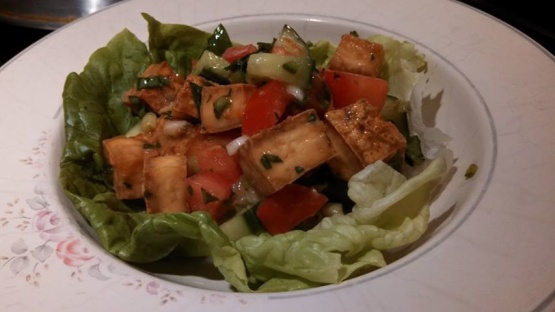 From Bon Appetit January 2006. Wonderful tofu taking on the flavors of whatever ingredients you add to it-a blank canvas waiting to be painted...

Just WOW! It smells so good! I did not have lemon grass so I had to leave that out. I can only imagine how unbelieveable this would be with the additional flavor. Also, try heating it up! (without the cucumbers) So tasty! And people really thought wrapping the lettuce themselves was fun!
NOTE*: Nam pla or nuoc nam (fish sauce) is available in Asian markets. I would strongly suggest to begin by using only 1 TEASPOON of the fish sauce in this recipe and then adjust seasoning accordingly. For vegetarian version, omit the fish sauce.)
DRESSING: Puree the first 5 ingredients in a blender. Allow the mixture to stand at least 5 minutes or up to 1 hour. Stir in chili sauce.
Strain the dressing into a small bowl, pressing down the solids with a spatula to release the liquids. Discard solids.
TOFU: Toss together the first 7 ingredients. Next add the tofu and salad dressing, tossing to coat well.
For each serving, arrange 1 or 2 lettuce leaves on a plate. Divide the tofu mixture onto the lettuce leaves.