Zurie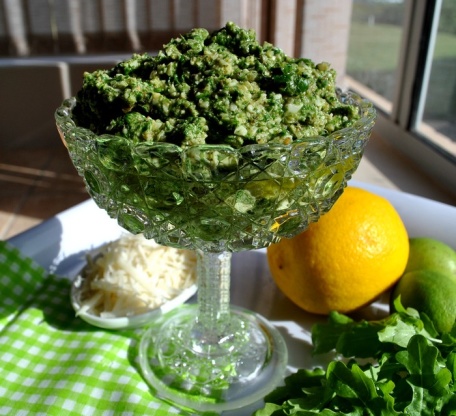 I am addicted to young arugula (or rocket, as we call it). At the moment I have a glut in my garden. This is my favourite arugula pesto, changed and tweaked by me, and will probably be tweaked again ... Please read the extra notes at the bottom of recipe. Delicious forked into hot, drained spaghetti.

This is the first time I made pesto without garlic and I must say it was really really good. Will definitely make this again. Thank you.
3

cups arugula, young, rinsed clean, and chopped up roughly

4

tablespoons parsley, finely chopped

3

ounces walnuts

2

ounces parmesan cheese, coarsely grated OR

2

ounces pecorino cheese, coarsely chopped

6

tablespoons olive oil, preferably extra-virgin

1

tablespoon lemon juice
1⁄2 teaspoon salt (pref. flaky sea salt)
1⁄2 teaspoon black pepper, coarsely ground
To measure, push the roughly chopped arugula into your measuring cup -- not too hard, but don't measure loosely.
Put this in your processor.
Add the rest of the ingredients, and whizz.
I prefer a pesto which is not too smooth, but slightly "granular" still.
NOTES: If you're using ready-washed arugula and parsley which are dry, you might want to add a tiny bit more oil. Mine usually has water on the leaves, which adds to the liquid available.
You can toast the walnuts lightly. I prefer walnuts because they contain more oil than other nuts.
The arugula should definitely be young -- the moment they start going to seed the leaves become very bitter.
The pesto should stand, covered, in the fridge for a few hours or more, as the flavours then meld better. Delicious forked into hot al dente spaghetti, with extra, fresh parmesan shavings on top. Can be dropped into a mixed greens salad by teaspoonsful.
I eat this on hot toast as well. (Ah well, takes all kinds to make a world -- !).