Artichoke, Pancetta and Spinach Frittata
Rita1652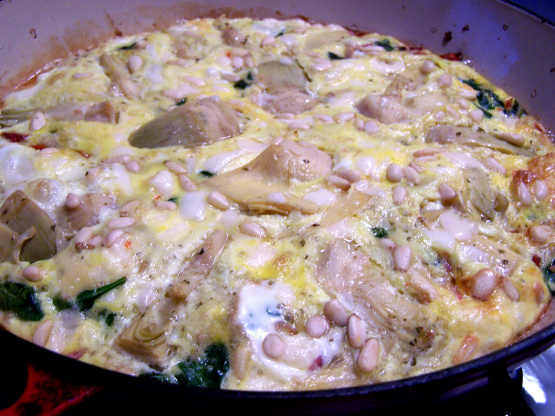 Great accompanied by fresh fruit and mimosas made with prosecco.

Lot of flavor here. You should avoid added salt to eggs till the last minute or just before eating because it toughens the egg whites. Beside the cheese is high in salt. I used 4 cups baby spinach. I used jarred marinated artichokes that had 6 or 24 quarters and that was plenty. I made it in a cast iron pan that is coated with enamel. Do add additional oil to the bottom of the pan before adding the eggs for no sticking. Thanks I did enjoy this. Good Job!
Preheat oven to 500 degreed F.
Put sun dried tomatoes in wine and allow to partially rehydrate for 15 minutes.
Whisk eggs together with a pinch of sea salt and white pepper.
In an all-metal pan, heat olive oil.
Begin frying the pancetta, stirring constantly, for 1 minute.
Add shallots and cook until soft.
Add spinach and cook for 2 minutes, stirring.
Add sun dried tomatoes, basil and rosemary.
Add egg mixture to the pan.
Agitate the eggs into the other ingredients and add in the cheese bit by bit. Hold about a tablespoon back.
Remove the pan from the heat and arrange the artichoke quarters evenly around the pan.
Sprinkle the pine nuts over the mixture
Finish with the last tablespoon of cheese.
Put the pan in the oven's center rack and bake for 10 minutes or until firm in the center.
Slide out of the pan and cut into 6 slices.
Notes.
You'll need an all-metal pan to take this dish from the stove to the oven in the true frittata style. (Alternatively, the portions could be baked in individual ramekins, just mix all the the ingredients into the eggs, then pour into the ramekins and bake). Made with egg substitute, this is a more healthful and low fat brunch item, great accompanied by fresh fruit and mimosas made with prosecco.