Aracia Mahshia-Bil-Goz (Walnut-Stuffed Prunes)
twissis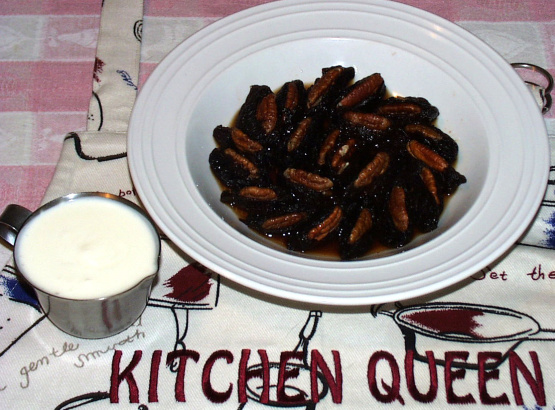 In Egypt, these tea-flavored prunes are traditionally served with boiled buffalo's milk (thicker than our heavy cream) poured onto cold marble slabs and then sliced. Author Colette Rossant finds crème fraîche to be the next best thing. This recipe was first published in Saveur in 1996.
Top Review by lynn
Absolutely delicious and very easy. The tea compliments the prunes giving them a depth of flavor. Next time I would use smaller prunes. The large California type is too big a mouthful when soaked and stuffed. To avoid the high fat of creme fraiche I used full fat yogurt. By draining it through a coffee filter for a couple hours I got a firmer texture. 10 minutes is plenty of time to stuff walnuts into the 35 or so prunes that remained round after soaking.
Brew 3 cups very strong black tea, such as Irish Breakfast.
Transfer to a large bowl while still hot. Add 1 lb. pitted prunes (California prunes are plumper and therefore best) and soak overnight.
Remove prunes with a slotted spoon to a clean work surface and set aside.
Transfer tea to a medium saucepan and add 1/2 cup sugar.
Bring to a boil over high heat and reduce tea until it is the consistency of a thin syrup, about 10 minutes.
Meanwhile, stuff each prune (into the slit made when pitting prune) with a large walnut piece.
Place stuffed prunes in a large shallow bowl or platter, in concentric circles.
Pour tea syrup over prunes and cool to room temperature.
Serve with crème fraîche on the side.
Store covered in refrigerator for up to 1 week.