gailanng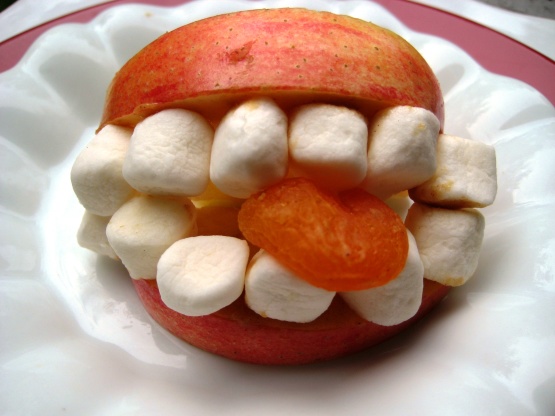 Another one of my no-flame-required, kid-friendly recipes. I remember making these in my after school program in grade school and loving them. They are a great wholesome activity for kids parties...just make sure an adult slices the apples. My favorite Apples to use are Pink Lady because the tart flavor is a nice compliment to the Peanut Butter. For a healthier variation, use cubed Slightly Green Bananas instead of Marshmallows...ripe bananas may be mushy. If you are worried about Peanut Butter allergies, substitute Cashew Nut butter as it is far less common to be allergic to.

These are adorable...can't wait to try them out on the kids. I would take a red gum drop (or fruit snack maybe) and roll it flat with a rolling pin for the tongue, would that work? Very cute!
Core Apples and Slice each into 6-8 wedges.
If you are slicing Apples ahead of time, toss with Lemon juice.
Cover 1 side of Apple Wedge with about 1 tbs. of Peanut Butter.
Stand up 5 or 6 Marshmallows in a line along the peel edge of Apple.
Cover with another Apple Wedge (like you are making a sandwich).
Repeat with the other wedges.