When autumn arrives, I especially love the taste of apples! While preparing Sunday brunch, I came up with this simple recipe (if you can call it a recipe) that delivers big flavor with little effort. I'm calling it Apple Flip but I hope you'll call it just plain inspired!! I used Cooks Grand Reserve champagne - inexpensive, but great with this concoction! The measurements are required, but just eyeball the half-and-half combo in your flute!!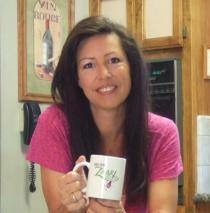 Wow, this drink combination is for Cider lovers for sure! Love the name, cuz it did give it a flip. Really gave a nice apple flavor to the champagne. I really enjoyed it, thanks for sharing this one! I'll keep it in my "Beverage" cookbook for sure. Cheers ~V
1⁄4 cup fresh apple cider (not apple juice)
1⁄4 cup champagne
Pour cider into a champagne flute.
Top with champagne.
Sip away, enjoying the delightful taste of fall apples!