Apple Cider & Wild Rice Pilaf Treasure
Rita1652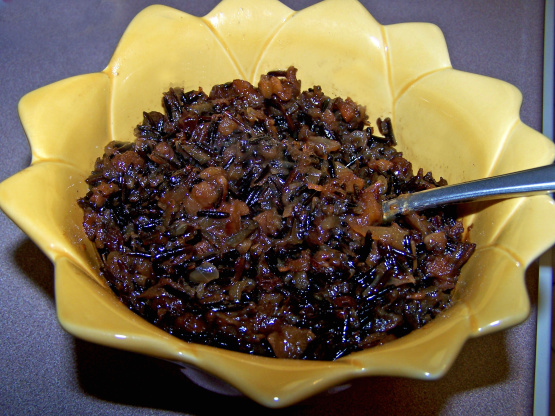 Oh this is sooo good. I really hope that you will enjoy this tasty dish as much as we all do. Quick, easy to make with delicious results...try it...see for yourselves.

This was great! I changed it a bit by adding 1/3 a cup of brown rice medely, I used less butter, half of the apple, and 1/8 cup regular raisins instead of golden (didn't have any). This is super yummy and I love the shallots and spices with all the dried fruit. What a yummy winter treat! My only complaint is that there was too much liquid and I had to drain the rice a bit. Oh well!
Wash rice three times, drain well.
Combine rice, cider and water in pan. Bring rice mixture to boil, reduce heat to low and cover and simmer 45 - 60 minutes.
In a large frying pan, melt butter on low, add pecans, raisins, currants, and cranberries, ginger and shallots, stirring for 5 minutes.
Next add the salt, pepper, cinnamon, nutmeg, fresh apple and wild rice. Cook on low for 2 minutes until heated, serve warm -- enjoy.