Olive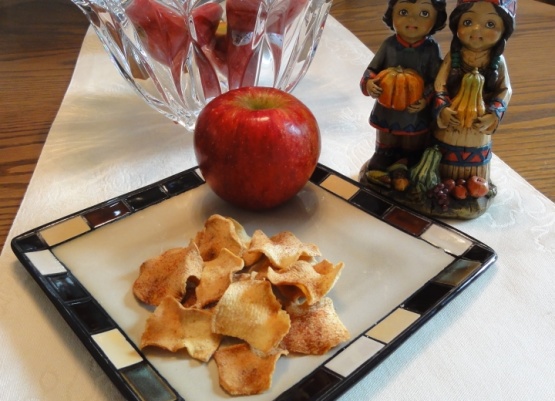 A very crunchy, sweet & healthy fruit snack!
Top Review by Deely
This is THE perfect snack!!! I used Gala Apples...no cinnamon or Pam. My search for a low cost, crunchy and healthy snack is finally over. I'll be making a tray of these every morning for the rest of my life! Goodbye potato chip cravings.
Thank you for posting this wonderful recipe MaMere!
Slice apples VERY thin and lay in single layer on parchment lined pans. I used 2 apples and it took up 2 pans.
Spray with the Pam spray coating (this allows the spice to adhere).
Sprinkle the Apple slices with Apple Pie Spice. You could also use Cinnamon, Cinnamon Sugar.whatever your taste preference. I choose to not use sugar as the sugars in the apples really concentrates as they bake.
Bake @ 200 f for approx 1.5 hours, till crispy.(I flipped the slices halfway through.).
The apples will firm up a bit more after taking from the oven.
Let cool and enjoy!