Apple Butter Pumpkin Pecan Streusel Pie
Prep 15 mins
Cook 1 hr 15 mins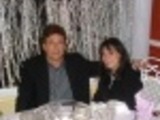 I recently discovered the merits of apple butter as a baking ingredient, and wanted to share my discovery.
Directions
Preheat to 375 degrees.
Combine pumpkin, apple butter, brown sugar, cinnamon, ginger, nutmeg, salt, eggs, and evaporated milk. Pour into the pie shell.
Bake 50-60 minutes or until knife inserted two inches from center comes out clean.
Meanwhile, mix together butter, flour, sugar, and pecans until they resemble coarse crumbs.
Top pie with streusel topping and bake for an additional 15 minutes.
Reviews
Most Helpful
I made this last night in an effort to change up my pumpkin pie I do every year and it was AMAZING! I made 2 and the only thing I changed on the second pie is I used 5 tablespoons of butter in the streusel but I think 4 would be PERFECT! 3 like the recipe calls for was too dry for my liking but we are eating them all today at work and everyone LOVES it.
If I could give this 10 stars I would. My 13 yr old daughter makes the pumpkin pie every Thanksgiving and Christmas with my help. We've always used the "traditional" recipe but some of our family don't prefer it. This time we tried yours and everyone raved over it. I happened to have some "apple-rum" butter which made the texture so terrific. Not watery at all. Thick and rich! The taste of the pie and the topping made it really sensational. Thank you so much for publishing this receipe - my daughter has now adopted it for all future pumpkin pies!