MamaMeag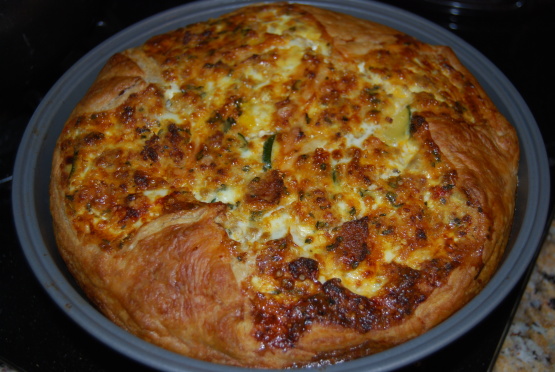 A very easy recipe to be enjoyed any time of day. This is one of those emergency meals to make when you are low on energy or prep time. Delicious! From The One Armed Chef Cookbook. You can add any leftover vegetables that you have along with the cheese. Spinach is particularly good in this recipe. Note: in the pictures I posted I added 1 c. frozen chopped spinach and 1/2 lb. browned sausage and it still fit nicely in a deep dish pie crust, but it does have to bake longer. Enjoy!

What a wonderful recipe this is! We have made MANY variations, and really...you can't go wrong! It's just so good!! I've used Trader Joe's puff pastry and their pie crust. It's delicious both ways. This is great for breakfast, lunch or dinner. Put your favorites on top of the cheese layer, and then add the egg mixture on top of everything. SO GOOD! It also took around 50-55 minutes to bake (like Motivated Mama). This is definitely one of our families "go to" meals...and it's a winner for all ages!
Preheat oven to 375 degrees.
In a medium mixing bowl, beat eggs with a whisk. Add in the milk and salt, mixing well.
In the bottom of the frozen pie crust, sprinkle cheese.
Pour the egg mixture over the cheese. Bake for 35-40 minutes or until a knife inserted in the center comes out clean. (I usually cook mine at least 45 minutes.).