CarolAT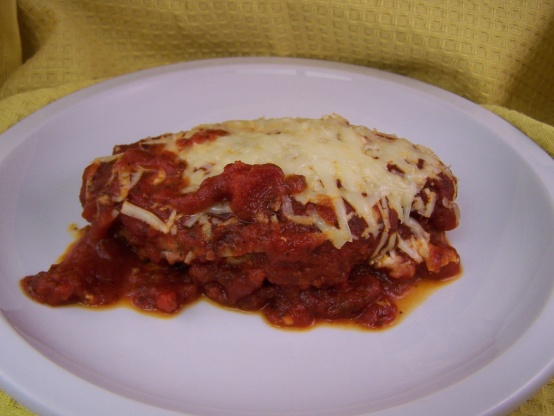 This recipe is my mother's and it was handed down to me. It's one of my favorite recipes. It's really good.

This very tasty and tender chicken dish was so easy to make. I have always found it easier to put the bread crumbs in a zip lock bag then add the dipped chicken and shake to coat. I also used two tablespoons of olive oil to lightly brown the chicken in and used grated mozarella to the top before baking. I served this to my best friends, and they loved it. Good recipe.
Preheat oven 375°.
Take a medium bowl beat eggs with 3 tablespoons of milk and set aside.
In another medium bowl put bread crumbs in the bowl.
Take a skillet put some oil in the skillet.
Turn the stove on medium heat.
Take the chicken and roll it in the egg mixture and then roll it in the bread crumbs.
Cook chicken on both side till lightly brown.
When that's done, put in a 9x13-inch baking dish or pan.
Open the spaghetti sauce and pour it on top of the chicken; sprinkle cheese on top.
Put it the 375° oven and bake for 15 to 20 minutes.