KateL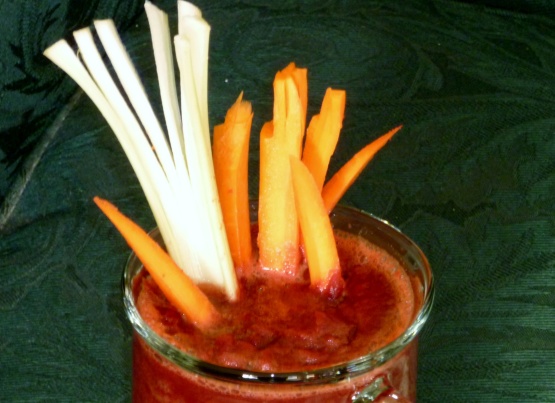 The beet is one of the most nutritious vegetables. A good source of Vitamin C, K, folate, and magnesium. Paired with carrots and celery, it's a good cancer preventitive. Also good for the unrinary tract and ulcers.

Top Review by KateL
My drink demonstrated that a VitaMix is not a juicer; to produce a drink, I had to add 1/2 cup of water and added ice cubes to chill. My rating is based on the taste. The mixture didn't taste bad, but it tasted much better when I added some pitted fresh cherries for a slight sweet taste, hence 3 stars. From what I read this afternoon, if your digestive system is compromised, you will lose a lot of nutrition from the retained fiber in the VitaMix "Total Juice"; fiber-free juice will release nutrients directly to the bloodstream. Made for 1-2-3 Hits tag.
Wash and trim vegetables.
Juice carrots and celery first, then juice beet.
Stir and drink! Enjoy!