American Kitchen Classic Creole Jambalaya
lazyme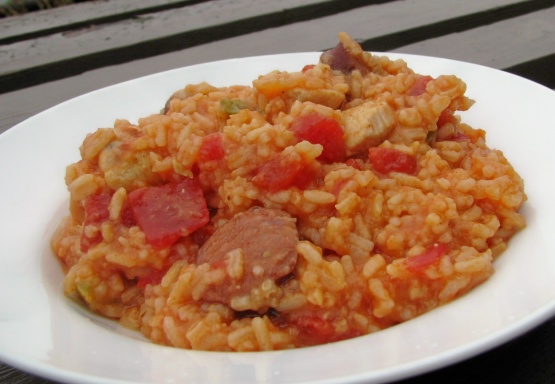 This dish is a New Orleans Creole-style "red" jambalaya. Creole cuisine evolved in the homes of well-to-do aristocrats, or those who imitated their lifestyle, and who mainly lived on country plantation estates. A lot of people believe Creole cuisine is New Orleans based but it isn't so. Traditionally this recipe would have seafood, such as crayfish or shrimp, added but for alot of people, seafood is an acquired taste. If you wish to add seafood, do so at the time you add the onions.
Heat oil in large saucepan over medium-high heat until hot. Add chicken and sausage and cook 4 to 5 minutes or until browned, turning occasionally.
Add onion, green bell pepper, red bell pepper and celery to saucepan; cook and stir 3 to 5 minutes or until vegetables are crisp-tender. Add garlic; cook 1 minute or until aromatic.
Add undrained tomatoes, bay leaf, thyme, salt and pepper to mixture; stir to combine. Create an open space in the middle of the pan by pushing everything to the edge of the pan and sprinkle rice evenly over bottom of pan.
Add water; DO NOT STIR. Cover; reduce heat to medium-low and simmer 25 to 30 minutes or until rice is tender. Stir in red pepper flakes. Mix well.