Amarula Cream Truffles: a Homemade Gift!
Jubes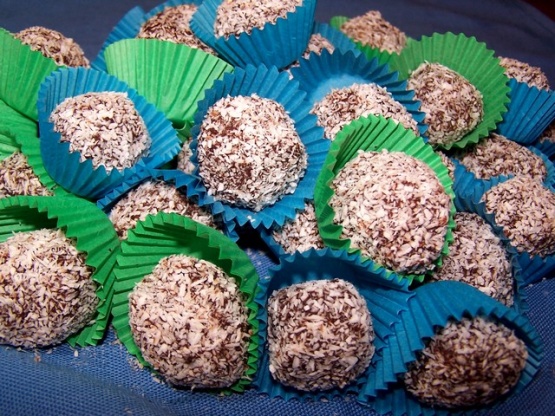 These sinfully rich chocolate truffles will make a lovely gift in the festive season! They're easy to make and they also freeze well. Use different "finishes" for a professional look. I give the metric amounts as well. Time to make is very hard to pin down, so I guessed that. I also have no idea how many chocolates an individual cook might make -- depends on size and whether you use a filling like a nut -- so had to guess.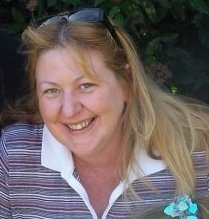 Top Review by Jubes
*Reviewed during ZWT4 for the African Dessert Challenge * These are wonderful. Easy to make and deliciously rich. Perfect with an after diner coffee. I made half the recipe and it made about 50 truffle. I did try some different coatings but really preferred the dessicated coconut. I placed them in chocolate cases for presentation. It did take longer than I had expected for the truffle mixture to cool in the fridge before they could be rolled -but this wasn't a problem. As recommended, I used quality chocolate and agree that this does make the difference. These truffles are definitely sinfully rich and decadent. Photos also being posted. These were perfect for the challenge as sugar is not listed as an ingredient. The sweetness is from the dark chocolate used as an ingredient
Break up the chocolate into small pieces.
In a saucepan with a thick bottom, melt the chocolate and the cream together over low heat. Give it a stir with a fork now and then.
Cut up the butter and when the mixture has almost melted, add the butter, and stir until the mixture is smooth. Keep heat very gentle!
Remove from heat and stir in the Amarula Cream.
Cool the mixture and let it set (not too long) in the fridge.
Have ready for finishing your truffles: sifted cocoa powder, dried coconut (dessicated coconut)/finely ground almonds/finely crushed peanuts/sifted icing sugar (confectioner's sugar), pine nuts, or finely split almonds. You could also enclose glacé cherries in some, or a nut of choice.
Use a small spoon to scoop out walnut-sized pieces of the chocolate mixture, shape into balls or ovals, and roll each one in one of the "garnishes" suggested.
You could also make up a white, thin icing with confectioners' sugar and water, and decorate some truffles with thin white lines.
Keep in one layer and keep cool. They can be frozen. But they should be served at room temperature.