Juenessa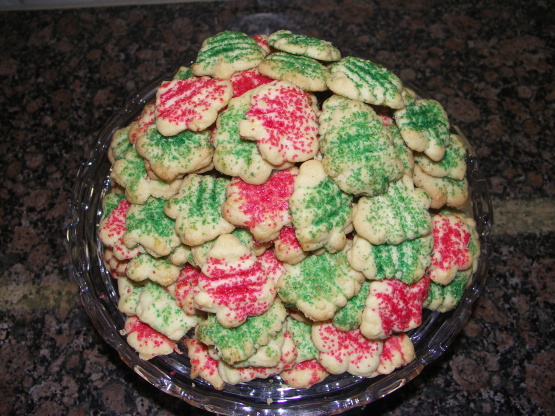 This is a terrific cookie that I got at a pampered chef party. It is delicate but full of flavor. The variations are wonderful as are the mix ins. It is a great way to get several different cookies from one recipe.

These are easy to put together and delicious. The plain ones taste just like shortbread cookies! I made a dozen plain, a dozen with chocolate chips, a dozen with coconut and another dozen with M & M's. With the rest of the dough I just threw in a little of everything. This is very versatile and I can't wait to try the chocolate and peanut butter varieties! The kids loved them! These would be great for the holidays with some food coloring and colored sugar/sprinkles. I used a cookie scoop and got 56 cookies out of the batch. They needed exactly 15 minutes. Thanks for this easy and yummy recipe!
Pre heat oven to 350°.
Microwave 2 sticks of the butter on high for 1 minute or until melted.
Using paring knife, slice remaining butter into 1/2 inch slices; add to melted butter, tossing to coat.
Allow butter to stand 3-5 minutes or until softened.
Blend cake mix and flour in bowl and whisk to break up any large lumps.
Whisk butter until smooth and free of lumps, if necessary microwave for 10-20 seconds or until creamy and pourable.
Do not melt completely.
Pour butter, all at once, into dry ingredients.
Mix until dry ingredients are incorporated and dough is smooth.
If dough is to stiff to stir knead until smooth.
Using a small cookie scoop or teaspoons drop cookie dough onto baking sheet 2" apart.
Bake 15-17 or until very light golden brown.
Cool three minutes and transfer to cooling rack.
Variations: Chocolate: Substitute devils food cake mix for the white and bake as directed Peanut Butter: Substitute yellow cake mix for the white cake mix.
Add flour as directed.
Whisk 2/3 cup peanut butter into softened butter until smooth; add to dry ingredients as recipe directs.
Mix ins: Mix in 1/2-1 cup fo any combination of the following ingredients to the dough--Miniature semi-sweet chocolate chips; whole, grated or chopped nuts; rasins; flaked coconut; dried cranberries; miniature candy-candy coated chocolate pieces; chopped candies; chocolate chunks; white chocolate chips or toffee bits.