Aeggkage--Egg Cake (Danish Baked Omelet)
diner524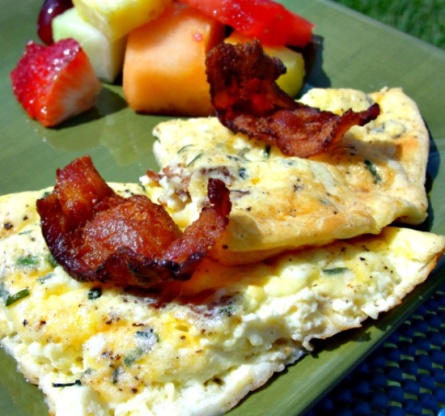 Adapted from Best of Scandinavian Cooking. Posted for ZWT6.

DEEELISH Choccie! Made whilst in the UK for me, as mum and dad are veggies and I fancied some meat one day! Fluffy and full of flavour, I loved this. Made as a prize for the Scandinavia game in Europe on a Plate forum! Merci encore - photos to be posted later. PS: I also used fresh chives from the garden as well as local oak cured bacon.
Preheat oven to 375°F.
Cut 4 slices of bacon in half.
Cut remaining bacon into 2" pieces.
Place all bacon in a 10" oven-proof skillet and cook until crisp.
Drain on paper towels, shaping the 8 large pieces into curls.
Tilt frying pan to coat with fat.
Drain excess fat.
Line pan with small pieces of bacon.
Beat eggs with flour, 3 teaspoons chives, salt and pepper.
Beat in milk.
Pour over bacon in pan.
Place in oven and bake 35-40 minutes, or until golden and set.
Top with bacon curls and remaining chives.
Serve in wedges, garnished with tomato wedges.