Adult Strawberry Pineapple Punch Cocktail
alligirl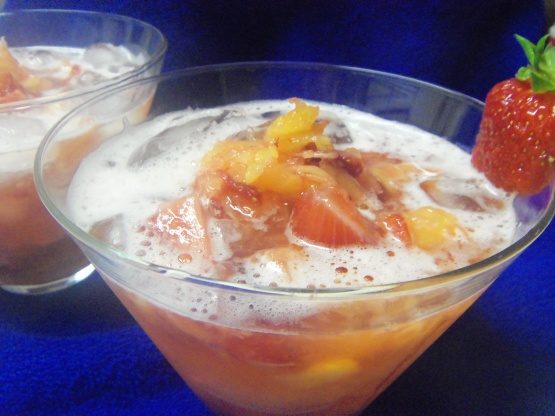 Another yummy, refreshing summertime cocktail. The fresh fruit makes it to die for. Takes a little bit of time to "muddle" the fruit, but it's all worth it in the end.

We just loved this drink! I made double the recipe, to share with DH. He loved it TOO! I used fresh pineapple, as I had it on hand and subbed coconut rum for the same reason. Tropical and toothsome, all at the same time! I used our large caliber straws, to suck up all of the chunky, fruity goodness. I will most definitely be making this again! Thanks for sharing, PSU Lioness.
3

slices canned pineapple
1⁄2 ounce pineapple syrup, from the can
1⁄4 ounce lime juice
1⁄4 ounce simple syrup (or see alt. below)

2

ounces white rum
Muddle (mash) fruit.
Pour over ice with other ingredients.
(To make simple syrup, dissolve one part sugar in one part boiling water; let cool).
Shake vigorously.
Garnish with fruit.