Acadia's Eggplant Casserole
Rita1652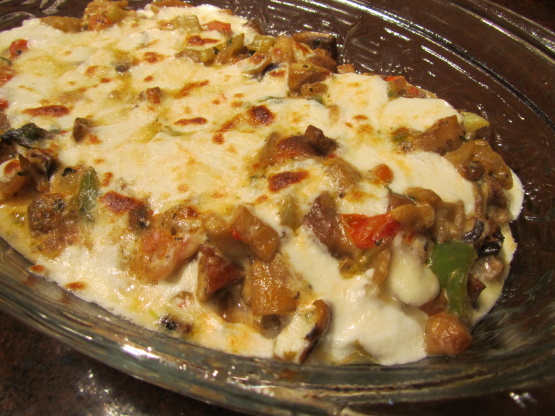 Yet another recipe for eggplant! LOL! I have seven eggplants on my eggplant and about 6 purple flowers. How many different ways can you serve up eggplant? Eggplant ice cream anyone? LOL!

John and I enjoyed this for dinner last night with tortilla chips. Making a dip out of this recipe. I did add veggies that needed to be cooked. Mushrooms, tomato, carrots, celery used green in place of the yellow pepper. Added oregano, parsley and garlic. Stirred 2 tablespoons of mayo and some cheese to help bring it together. Topped wit the rest of the cheese. This is a great way to use excess produce from the garden. Delish! Thanks for the good eats!
Pre-Heat oven at 350 degrees F.
Chop onion into 1/4" pieces.
In skillet add 1 tablespoon of margarine.
On medium-low heat saute onion until translucent (not brown).
Stir frequently.
Add bell pepper and eggplant pieces with onion.
Sprinkle salt over mixture.
Saute until tender.
Spray PAM in 2-quart baking dish.
Add eggplant, pepper and onion mixture into baking dish.
Mix cheeses together.
Sprinkle cheese mixture on top of eggplant mixture.
Bake in oven for 15-minutes or until cheese has melted.
Serve and enjoy.