Absolutely Sinful Chocolate Chip Cookies
sprue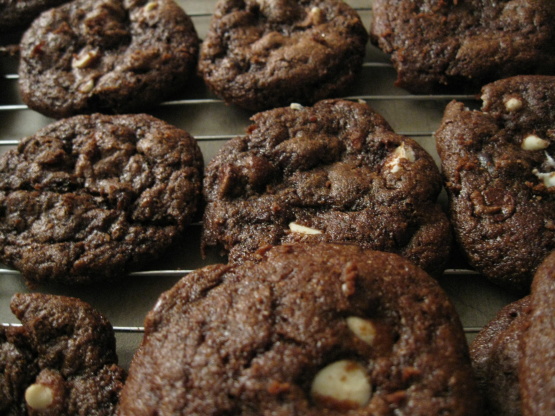 My friend Anne found this generationally OLD recipe off the net and made it for her brothers. This one's staying around.

Top Review by sprue
these were pretty good. the cooking time was tricky. if i left it in a tiny bit less or more i got either very fudgy cookies or cakey cookies.. so there was no middle. i put some white chocolate chips in for fun.. would also be good with nuts. i got 3 dozen out of this recipe.
Preheat oven to 375°F (190°C).
In the microwave or over a double-boiler, melt unsweetened chocolate and butter together, stirring occasionally until smooth.
Sift together flour, baking soda, baking powder and salt; set aside.
In a medium bowl, beat sugar, eggs, and vanilla until light.
Mix in the chocolate mixture until well blended.
Stir in the sifted ingredients alternately with sour cream, then mix in chocolate chips.
Drop by rounded tablespoonfuls onto ungreased cookie sheets.
Bake for 8-10 minutes.
Allow cookies to cool on baking sheet for 5 minutes before transferring to a wire rack to cool completely. Store in an airtight container.