A1-Derful Grilled Chicken #A1
meryl c.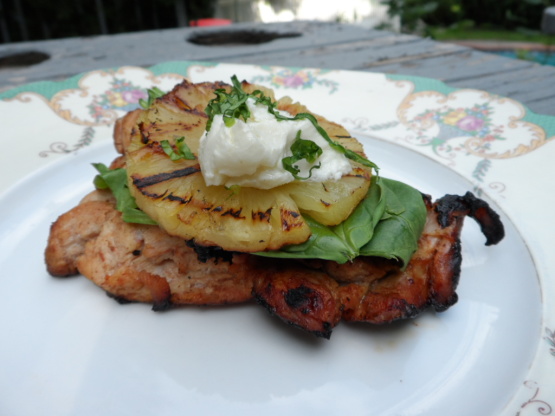 A.1. Original Sauce Recipe Contest Entry. Delicious savory grilled chicken thighs with the sweet of pineapple and the savory of A1 marinade. Spinach and goat cheese top it off for the total A1-derful experience.
1⁄2 cup A.1. Original Sauce

6

canned pineapple rings

5

ounces goat cheese

8

ounces fresh baby spinach leaves
1⁄2 teaspoon salt
1⁄2 teaspoon pepper

1

cup pineapple juice
Place A1, chicken thighs, and pineapple juice in 1 gallon zip lock bag. Marinate for at least 3 hours turning bag occasionally.
Preheat gas grill for medium heat.
Grill pineapple rings for 2 minutes on each side. set aside.
Grill chicken until done. About 6 minutes on each side.
Place about 10 spinach leaves layered on each piece of chicken.
place grilled pineapple ring on each piece.
place 1 tablespoon of goat cheese in each hole of each pineapple ring.
Shut lid of grill for 3 minutes.
Open grill, serve chicken and enjoy. Thankyou.