mliss29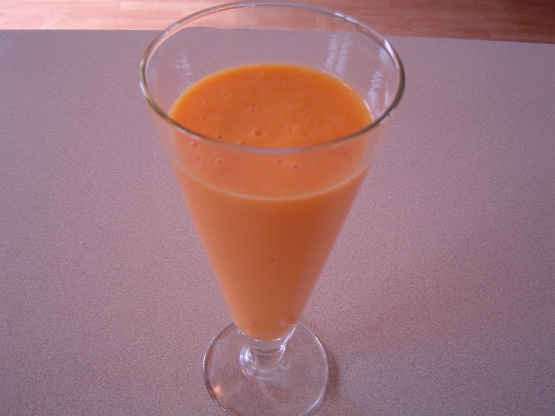 A healthy orange drink that provides 2 servings of vegetables and 3 servings of fruit. I made this up in an attempt to get my 5 a day without cooking. Hope you enjoy!

GREAT, GREAT COMBO OF FLAVORS here! I'd made a mashed carrot side, so reserved 1/2 a cup to include in this recipe! I made sure everything was well chilled, & the banana frozen), when I put this beverage together! Definitely a keeper of a recipe ~ Thanks for sharing it! [Made & reviewed in Healthy Choices ABC tag]
Microwave sweet potato until soft.
Scoop out pulp and put in blender.
Peel orange and add to blender.
Add banana, chopped carrot, and orange juice. Blend until smooth and creamy.
Add ice cubes and water until desired thickness is achieved.
Pour into glass and enjoy!